AGN Roots Subscribe & Save 10% - Program Details
Welcome to AGN Roots Subscribe & Save
At AGN Roots, over 65% of our customers are subscribers. Six months of the year, we limit our offering to existing subscription-only orders, while both Amazon and our website routinely reflect an "out of stock" status. The community has caught on; our whey is limited because we source the right way. The numbers tell a great story; this subscription program is the most reliable way to ensure availability.

For your convenience, our Subscribe & Save feature is 100% self-managed. The application offers subscribers complete control over their subscription details and individual preferences.

Enrolling in the program is effortless and can be completed by selecting Subscribe & Save 10% during the normal checkout process. After your initial order, subsequent orders will be processed and shipped according to your schedule and frequency selection managed by you and able to be updated on-demand.
Manage Your Subscription Preferences
We offer a classic login experience within the menu icon from any mobile device or a fixed link on the top green bar of our website via a desktop view. In seconds and directly from this website, you can create an account and then log in to manage your subscription details.
Note: In order to manage your Subscription account directly from the website, you need to "create" a website account using the same email that you used to set up the Subscription account. Please note that the Subscription account and the website account are distinct. However, by logging into the website using the same email, you will have the ability to access and manage it locally.
The direct links can also be found here: Create an account and log in.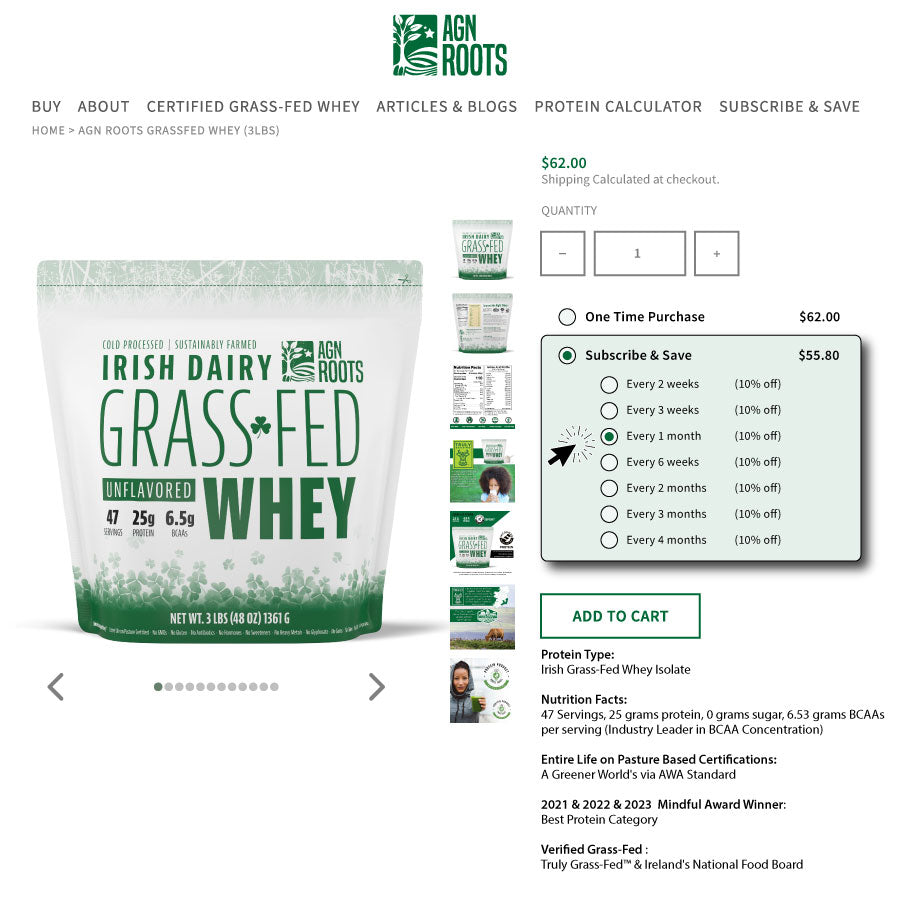 How to Subscribe & Save?
Electing to Subscribe & Save 10% can be an excellent deal for those who know what they want in their high-end dairy protein sourcing. To subscribe, toggle the subscribe & save feature on the product page and pair it with your desired frequency declaration.
Note: Subscription accounts are advantageous for a particular customer type but only for some. We strongly discourage electing to enroll in the Subscribe & Save feature as a first order.
Direct Log in & Email Access
Getting the most of your subscription depends on your ability to self-manage the account through one of two access points. 
Create an account and log in (user email & password required). 
Moments after electing the Subscribe & Save feature at checkout, an email containing a direct link to access your account is sent to you. You may also request an additional access email to be issued. For Gmail Accounts - Please check your Promotions Inbox.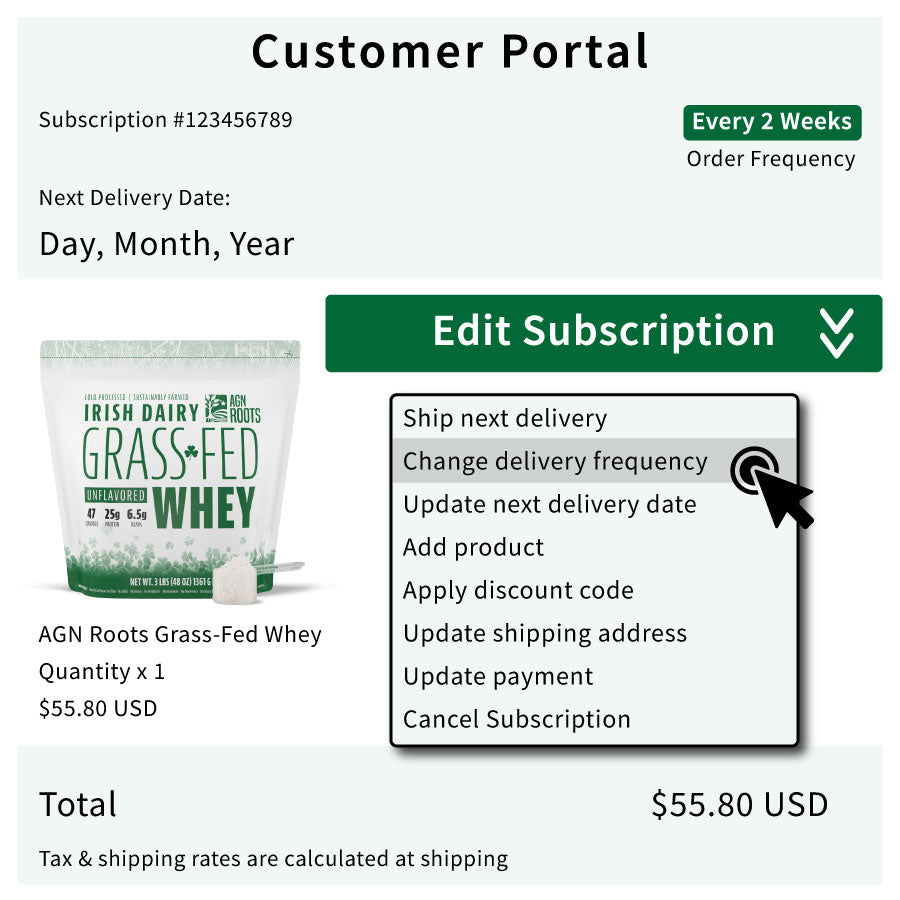 Navigating Your Subscription Details
Once you have gained access to the Subscribe & Save account page, you can update any subscription attribute you wish, including but not limited to the frequency of your orders (time between orders), the date of your next order, payment method, and shipping address. The customer portal also allows any-time cancelation with zero downside.
Reminder to Manage Your Account
Five days before your next recurring order ship date, a notification reminder with a direct link embedded in the message body is emailed to the account associated with your subscription.

Please consider that by the time you have received your order confirmation email, the parcel has been packed, labeled, and picked up by the carrier. Although this process enables the fastest shipping experience possible, mistakes caught on or after the day of a scheduled order are not forgiving; please manage your account accordingly.

Note: Orders made through a customer subscription are NOT eligible for a refund or return based on subscription mismanagement; please manage accordingly to help us keep this program available.
In the event that we are able to facilitate the cancellation of your order and restock the item after processing the subscription cancellation, a restocking fee of $5 will apply. This fee will be deducted from the refund that is issued to you. We appreciate your understanding and cooperation in this matter.
There are two methods to access your subscription.
Customer Portal Access Email
The direct access account is a website account that allows you to log in with an email and password. It's separate from your Subscription account. If you haven't created a website account before, simply use the same email you used for Subscribe & Save to create one. It takes less than a minute to set up. See next FAQ for more details if you are having account log in issues.
Accessing via email - The customer portal access email allows you to manage your subscription without remembering a username or password. Shortly after your initial election to subscribe & save was made, a welcome email was emailed to you (in addition to the typical order confirmation).

For Gmail accounts, subscription emails will fall into the auto-filter Promotions Tab unless you've directed your account away from the default settings.
The direct link is embedded in the initial email and auto-sent from Customerservice@agnroots.com, and also the notification email sent five days preceding your next scheduled order.
For your security, the access link to the Customer Portal expires a few hours after its creation. If clicked after expiration, the link will authenticate your account and send a fresh link in a matter of seconds. 
If you deleted, lost, or gave up on the search, you may request a subsequent access link be emailed to you at any time. The fastest and most reliable access to your subscription account will be directly logging in (links above).
Your Subscribe & Save Account can be accessed directly from this website.
Creating the website login credentials does not create a new subscription account; rather, it represents an additional step to access your Account with traditional credentials (email and password to log in).
If you still need to create agnroots.com website login credentials, please follow these steps exactly as written.
Create Account (Use same email as your Subscribe & Save Account)

Enter a Password

Enter your First & Last Name

Log in to manage your subscription
If you received messages citing that your email needs to be registered or is not recognized on the website, you skipped step number one above. Please create the account credentials & password on our website first.
Important: Please allow the system to sync after creating the account and before logging in. This can take up to 2 hours.
Important: Use the same email as your subscribe and save Account so our website can pull in all your existing information.
Remember, the Subscribe & Save application is hosted offsite; the website account & credentials you make on our website from the above steps ONLY allow a direct connection to the offsite Subscription application so that managing your subscription can happen directly from our website.
Subscription orders will default ship via "Standard" shipping method.
We recommend allowing 5-7 business days from your reoccurring processing date to ensure you receive your order as expected. All orders processed on our website ship at a flat rate of $5 per order up to the maximum order quantity of 3 Pouches (9 lbs.)
To update details to your account, please log in. Your account page displays your order history and also allows you to update subscription account details.
Once on the accounts page, the following options are available for adjustment.
| | |
| --- | --- |
| Skip Next Order | The next schedule will be skipped |
| Change delivery frequency | Adjust how often these orders are shipped |
| Update next delivery date | Change the Ship date of your next order |
| Adjust the Product Quantity | Increase or decrease the product quantity |
| Update the payment method | Trigger an "update payment" email |
| Cancel Subscription | No *Future Orders  |
Yes - Please utilize the "Contact Us" feature and send the details and we'll gladly customize your subscription frequency. The current account page will allow customers to change their subscription frequency to any of the standard options: 2 weeks, 3 weeks, 4 weeks, 6 weeks, 8 weeks, 12 weeks, and 16 weeks.
The window to update a shipping address for a subscription order is before the day of the scheduled recurring order.
If you have received a subscription order confirmation email and the shipping address needs to be corrected, we recommend contacting anyone at the destination address and managing your delivery from there. The shipping address can not be changed or edited once the parcel is labeled and picked up by the carrier.
Suppose a customer leverages the efficiencies offered by PayPal, ShopPay (Shopify payment method), Apple Pay (mobile pay service), or any one-click payment application. In that case, it is important to note these payment methods take primacy and will likely overwrite any previously stored shipping address on our subscription account.
The customer is 100% responsible for ensuring any payment method used to process orders contains an updated and desirable shipping address. Customer service cannot assist you in changing a shipping address after a subscription order confirmation is issued.
To cancel your subscription, please log in to your account and navigate to "Cancel Subscription." Upon a successful cancelation, an auto-confirmation email will be sent to your email account.
Customers can cancel subscription accounts anytime without restriction or the need to contact our support team.
Please note that AGN Roots customer service does not have direct access to your subscription account; requesting customer service to cancel your subscription requires creating and submitting a technical support request and will take a few days to process and receive the confirmation email.
Confirmed subscription orders, however, can not be canceled or changed in any way after confirmation. The window to edit subscription details for the next scheduled order ends when a confirmation is emailed.
It is important you receive our Notification Emails detailing your upcoming subscription shipment date are sent five days preceding your order. The customer's responsible for ensuring their emailing platform is keeping these emails.
Please consider that by the time you have received your order confirmation email, the parcel has been packed, labeled, and picked up by the carrier. Although this process enables the fastest shipping experience possible, mistakes caught on or after the day of a scheduled order are not forgiving; please manage your account accordingly.

Note: Orders made through a customer subscription are NOT eligible for a refund or return based on subscription mismanagement; please manage accordingly to help us keep this program available.

Skipping or canceling a single order will not impact the next scheduled order according to your subscription frequency.

Successfully canceling the subscription account will not cancel any previously processed order. Customers are accountable for managing their subscription accounts and staying ahead of future orders. Cancelation requests that are successfully executed will incur a $5 restocking fee.
These subscription emails are most likely filed into a folder you are not accustomed to checking regularly. To date, we have not had a single customer not successfully find these emails once the hunt started. Although you may believe you did not receive these emails, if the digital receipt we received reflected a bounce rather than a digital handshake, we would have contacted you already; so let us cover the basics and assist where we can.
All of the AGN Roots Subscribe & Save email notifications are sent from CustomerService@agnroots.com. This is the same email address as your Order Confirmation and Shipping Confirmation emails; the only difference is that Subscription emails are initially filtered by most email platforms by default rules most of us do not know exist
Please check the Spam & Junk folders. Tip: Searching terms via a search bar at the top of your inbox may not cover many spam or junk folders; thus, please navigate accordingly
Gmail Account Users - The default rules endemic to google email accounts will auto-filter "subscription" type emails to either your "Promotions" tab or a "Spam" Folder.
If you know the date of your original order, that is the date you would have received the original subscription access email (maybe start there).
Once you have found a single AGN Roots Subscribe & Save Notification Email in one of these "non-inbox" catch-all folders, please move it into your inbox to take advantage of Gmail's machine learning capabilities; this action ensures these emails will find your main inbox next time. If you can not locate these emails, you can always ask us to update your account with a different email account, or we will gladly cancel the account and move forward. Thank you!
The Subscribe & Save feature is not a price-locking mechanism. If retail prices or shipping charges have changed since your election, the email you receive before the order is processed will reflect the latest adjustments and serve as notice.
I apologize for any inconvenience you might experience. Occasionally, due to the manual process we use for filling and sealing our AGN Roots pouches, some might be overfilled and burst during the shipping and handling journey.
Please know that we're committed to ensuring your satisfaction.
If your subscription order arrives damaged, we'll promptly send out a replacement. Please understand that if the pouch is damaged upon arrival, a refund will be issued only if a swift replacement is unavailable (example "stock-out"). Thank you for your patience and understanding.