Thanks ASPCA® for Recognizing AGN Roots #ShopWithYourHeart!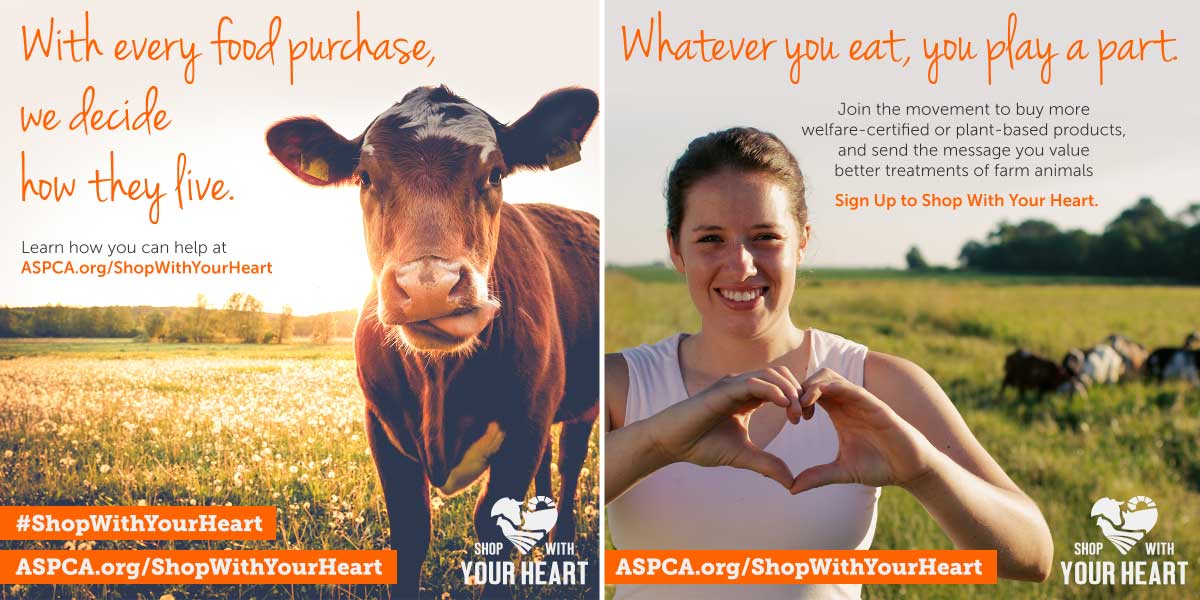 The humane and compassionate treatment of animals is incredibly important to us at AGN Roots and that is why we have pursued A Greener World's Animal Welfare Approved (AWA) certification for our Grassfed Whey. 
We are incredibly proud to share with you that AGN Roots Grassfed Whey is one of 100+ Certified brands helping add critical mass to the ASPCA® Shop With Your Heart (SWYH) program by sourcing exclusively from farms that work hard to build a more humane, accountable food system. 
What does it mean to "Shop with Your Heart" when seeking out dairy products that are produced with meaningful and transparent animal welfare policies and practices?
By focusing your purchasing power on the ASPCA's "Shop with Your Heart Brand List", you are supporting a better farming system for animals instead of the now mainstream factory-farming (including products that use prestigious, but too often unregulated or weakly defined marketing claims - learn more here: www.aspca.org/labels).  AGN Roots is certified by AWA (Animal Welfare Approved) and appears on the Shop With Your Heart Brand List of farms and products that are recognized with a meaningful welfare certification: Animal Welfare Approved, Certified Humane , Global Animal Partnership Steps 2+, as well as plant-based alternatives. "Shopping With Your Heart" means you've taken a stance to reject the inhumane treatment of animals by supporting operations & their products that represent more humane and transparent farming practices. 
To date, what has the ASPCA's "Shop with Your Heart" initiative accomplished?
Every day the small but consistent waves that hit the southeastern coastal counties of Ireland give shape to the island that we know today to be made from rock (limestone). As a consumer, like the waves that shaped Ireland over time, you are empowered to shape your community and the food providers within by advocating with each dollar you spend. Consumer demand and consistent requests brought to store management over time create an incentive to stock more competitive and more regulated products from verified brands that have challenged the source of their products as well as the farmers by asking the critical questions around animal welfare.  Progress is continuing and is always being made!
According to the ASPCA® website - Together, we are making a difference. Each month, tens of thousands of consumers use Shop With Your Heart resources like our brand list to find products that have achieved a meaningful welfare certification or are plant-based. They are asking stores to stock better products, asking farmers critical questions to understand how animals are raised, and consulting with us via the ShopKind Helpline for personalized help finding higher-welfare food.
Meanwhile, we're assisting food companies across the country—from restaurants and supermarkets to meal-delivery companies and household brands—meet the growing demand for more humane products, drawing on our team's unique expertise and technical resources.
The ASPCA is also working in cities around the country—alongside health, environment, education and fair labor advocates—to urge public institutions to source higher-welfare and more just, sustainable food, resulting in more than 10 institutional food policies.
Since Shop With Your Heart began in 2016, more than 100 products have become welfare-certified, earning them a spot on our brand list. The ASPCA has now worked with over 50 additional companies committed to certifying farm animals' welfare, with more commitments being added on a regular basis.
Helping Consumers Make Informed Decisions
The power of the ASPCA's Shop With Your Heart Brand List resides in a sense of assurance, peace of mind. Walking the aisles of a local Sprouts, HEB, and Whole Foods can leave a consumer in a state of label claim overload.  There are so many claims out there and many are often engineered to attract and often lead to a pragmatic inference about the product that's misleading.  Below are 3 resources that offer incredible amounts of information around food labels and what they mean.  
A Greener World - Food Labels Exposed
Consumer Reports - Food Label Guide
AGN Roots Grassfed Whey is Certified via Animal Welfare Approved by A Greener World, in short this means our Grassfed Whey is sourced exclusively from animals raised outdoors on a pasture.
For more information, please visit https://www.aspca.org/shopwithyourheart or contact agnroots@customerservice.com.
~ AGN Roots Grassfed Whey Team
References:  https://www.aspca.org/shopwithyourheart