Certified with Informed Sport & Informed Choice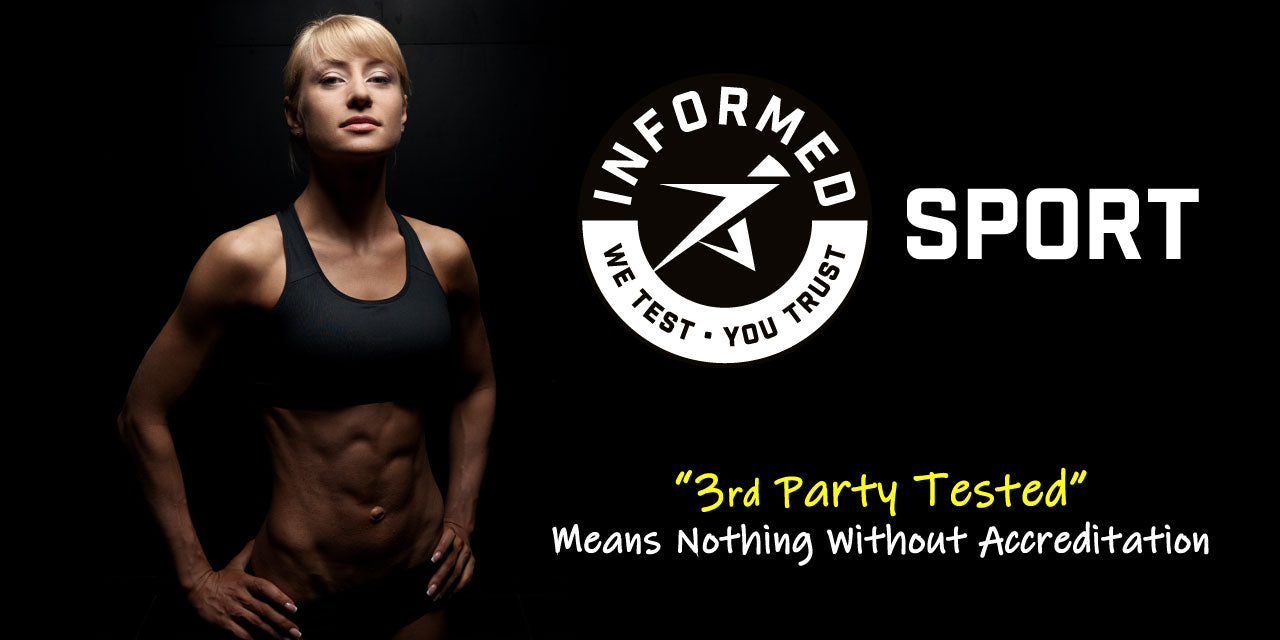 Every batch of AGN Roots Grass-fed Whey Protein Isolate is 3rd party tested and certified with INFORMED SPORT. When we claim "Independently tested", we mean it.
Who Performs the 3rd Party Testing for AGN Roots?
Our Informed Sport Accreditation is certified through a globally recognized sport science lab known as LGC. Every Lot# for sale is shipped to LGC for testing.  The link below enables you to research any brand who is in this global database.
About LGC: Sport Science & Certifications
LGC Sport Science is one of the world's premier independent drug surveillance laboratories, providing unrivaled and internationally trusted expertise in doping control for sports. LGC has been testing supplements/ingredients for banned substances since 2002 and has developed an institutional history and industry trust dating back to 1842.
The LGC laboratory is ISO Certified and accredited for forensic testing and meets or exceeds World Anti-Doping Agency standards and requirements.
Tests performed on our products use state-of-the-art gas chromatography, liquid chromatography, and mass spectrometric detection. These test results can detect substances down to ten parts per billion for steroids and 100 parts per billion for stimulants. 
3rd Party Tested Grass-Fed Whey
Without a doubt, testing is costly, but what is the price tag on your health, and is a discounted untested product worth the risk?
The sad truth is that most of us are paying premiums for supplements anyway, with unverified "3rd party tested" claims written all over the marketing material. The world is, fortunately, catching on in this era of information access.
This fact paired with the best athletes (role models) on the planet, along with professional sports teams demanding safe, drug-free, fully accredited nutrition products, does help influence our communities of young athletes coming up.
For the complete list of latest substances tested for - 2021 WADA Prohibited List Document PDF
Every Single Batch of AGN Roots Grassfed Whey is Tested
Below are the active batch compliance certificates. If you have any questions or unable to locate your product Lot#, please contact us. 
Every batch of AGN Roots Grassfed Whey produced undergoes batch-specific analytics, is then cataloged, and then lastly retained for the entire life-cycle of the product.
The retained pouches stay safely in storage for this specific scenario where an athlete using AGN Roots Grass-Fed Whey tests positive for a banned substance.
During this scenario, the retained & sealed batch samples are made available for a third party, independent test, to prove and reassure the athlete and our community that our offering is what we've claimed it was; any positive test is NOT due to the best Grassfed Whey isolate available - This is our promise to our community.
Certified with Informed-Sport Whey Protein Isolate -
INFORMED-CHOICE & INFORMED-SPORT (Global Certification) is a testing and certification program designed to offer assurance for athletes that products carrying these identifications undergo regular tests as defined by the program. Responsible supplement companies have made INFORMED-CHOICE & INFORMED SPORT part of their existing quality assurance systems to ensure their products are safe for athletes to use.

Some supplement products from less meticulous manufacturers have tested positive with low levels of steroid and stimulant contamination prohibited by WADA and other sporting bodies. The INFORMED-CHOICE & INFORMED SPORT program aims to work closely with supplement manufacturers and suppliers by providing high quality, analytical testing to minimize the incidence of banned contaminants finding their way into the competition of sports.

INFORMED-CHOICE & INFORMED-SPORT was established in 2007 by LGC Sport Science. At that time, it became clear that there was a need for a comprehensive certification program, which not only tested products for banned substances but also manufactured products in qualified facilities meeting FDA GMP standards.

Athletes who see the INFORMED-CHOICE & INFORMED-SPORT logo on a product, brochure, or media of any type must review the lot number on the product pouch and confirm that particular lot number is tested and certified in LGC Sport Science. If the lot number is listed under INFORMED-SPORT & INFORMED-CHOICE and shown to be approved, then they can be confident it has undergone a rigorous screening program for banned substances and is safe to use. If, on any of our products, you do not see the lot number as certified under LGC Sport Science, please contact AGN Roots by email for assistance before use.

Here is the link to the latest LOT# for you to check 
Collegiate & Professional Team Information
Does AGN Roots Grassfed Whey meet all approved use standards set forth by the NCAA, WADA, & Professional Sports?  

100% Yes
Our whey is used by regularly tested Team USA Olympic Weightlifting Medalists, Professional MLB & NFL players along with various NCAA Collegiate Athletes across the USA.
Also, AGN Roots Grassfed Whey like LGC understands the importance of integrity and the use of globally recognized analytical methods compliant with: 
ISO 17025 (international standard for analytical laboratories)

GLP (Good Laboratory Practice)

GMP (Good Manufacturing Practice)
The INFORMED-SPORT Certification requires that every batch of AGN Roots Grass-fed Whey produced undergo analytical testing. Analytical testing ensures the absence of any banned substance compliant with sports organizations including but not limited to:
World Anti-Doping Agency (WADA)

International Olympic Committee (IOC)

National Collegiate Athletic Association (NCAA)

All Major League Sports Including (NFL, MLB, NBA, NHL)
 Please See our Certified with Informed-Sport Page - AGN Roots  #InformedSport